A wide range of special glazing can be installed on our windows and doors in order to offer different technical features according to the product's use and location.

Glass Name

Fill

Type

Depth

Ug

SHGC

VT

R-Value

90%

[mm]

[Btu/(hr·ft2·F)]

[ ]

[ ]

[hr·ft2·F/Btu]

CLIMAPLUS ULTRA N

Argon

double

26

0.194

0.63

0.80

R-5

CLIMATOP ONE

Argon

triple

44

0.088

0.34

0.58

R-11

CLIMATOP ONE

Krypton

triple

44

0.070

0.34

0.58

R-14

CLIMATOP ULTRA N

Argon

triple

44

0.105

0.50

0.71

R-10

CLIMATOP ULTRA N

Krypton

triple

44

0.088

0.50

0.71

R-11

CLIMATOP LUX

Argon

triple

44

0.123

0.62

0.73

R-8

CLIMATOP LUX

Krypton

triple

44

0.105

0.62

0.73

R-10

NOTE: Listed insulated glass options are 'all glass' assemblies. Due to warranty concerns we do not use suspended film assemblies. The middle pane is always made of glass.

Our Low Emissivity (Low-e) Glass reduces wintertime heat loss from inside your home due to a thin, nearly colorless, metallic coating that reflects heat back into your home. It also allows moderate solar heat gain, while reducing harmful ultraviolet light, which can damage drapes, furniture, and carpets. Additionally, the Low-e coating reduces summertime air-conditioning loads by reflecting radiated heat outside your home.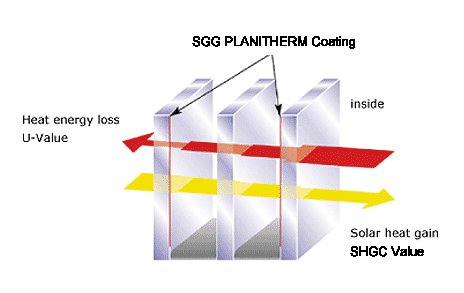 Low-e glass is available in two basic types: Hard Coat or Soft Coat. Hard Coat, or pyrolitic coating, is a coating applied at high temperatures and sprayed onto the glass surface. This coating is relatively durable, which allows for ease of tempering. Hard coat Low-e can be tempered for increased security after the coating application. However, it has higher u-values compared to soft coat Low-e and higher haze levels. Soft-Coat Low-e, or sputter coating, is applied in multiple layers of optically transparent silver, sandwiched between layers of metal oxide in a vacuum chamber. This process provides the highest level of performance and a nearly invisible coating. Soft-coat offers high visible light transmission, ultra-low emissivities giving optimum winter u-values, and up to 70% less UV transmission, compared with standard clear glazing.


The Low-e allows most natural light to enter freely but absorbs a significant portion of short-wave heat energy.
In the summer, long-wave heat energy radiating from objects is reflected back outside, lowering cooling costs.
In winter, internal long-wave heat energy is reflected back inside, lowering heating cost.
Using gases such as argon and krypton between the glass surfaces can greatly improve thermal resistance. Low-e gas-filled windows are so effective that attention is now focused on the edge of the IG unit and the window frame as thermal weak points; improvements include thermal breaks in metal frames, greater use of wood and clad wood sash and frames, or the use of lower conductance frame materials like vinyl. On a winter day in a northern exposure, "superwindows" actually achieve a net heat gain, contributing more useful solar heat gain than conductive losses.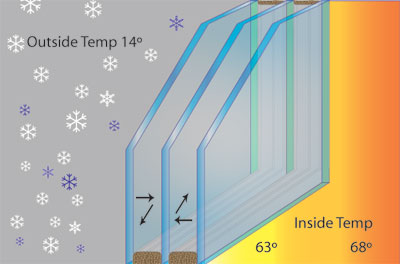 Laminated Safety Glass combines sheets of glass with a clear adhesive plastic film sandwiched between the panes to keep glass in place should breakage occur. It reduces sound transmission due to the dampening effect of the plastic film and reduces 99% of dangerous ultraviolet rays.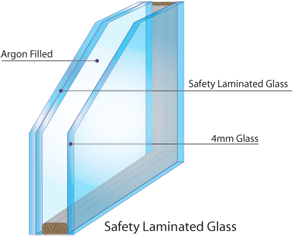 Laminated glass is used for both safety and noise reduction applications. If broken, glass fragments adhere to the plastic interlayer rather than falling free and potentially causing injury. Laminated glass is highly effective in reducing noise, thus improving Sound Transmission Class ratings. It also blocks 99% of ultraviolet rays, making it highly effective in prolonging the appearance of furnishings, displays, merchandise, and other valuables. (Reducing ultraviolet rays does not stop the fading of materials.)



Below is only a sample of our decorative glass selections available. Please note: decorative glass can only be used in certain conditions.

SGG MASTER - CARRE

SGG MASTER - RAY

SGG MASTER - POINT

SGG MASTER - LIGNE

SGG MASTER - LENS

SGG THELA

SGG MARIS

SGG NEMO

SGG ALTDEUTSCH K clear

SGG ALTDEUTSCH K bronze

SGG MADERA

SGG KATHEDRAL MAX

SGG ORNAMENT 105 clear

SGG ORNAMENT 105 bronze

SGG ORNAMENT 118 clear/bronze

SGG ORNAMENT 101 clear/bronze

SGG ORNAMENT 3 clear

SGG ORNAMENT 6 clear

SGG ORNAMENT 121 clear/bronze

SGG SPOTLYTE

AGC MATELUX